Please disable Adblock to watch video!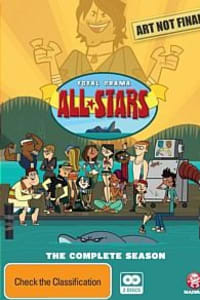 Total Drama All-Stars - Season 1
Total Drama All-Stars features the fourteen most popular contestants from the previous two seasons, which are: Alejandro, Cameron, Courtney, Duncan, Gwen, Heather, Jo, Lightning, Lindsay, Mike, Sam, Scott, Sierra, and Zoey. They all compete in several "Heroes vs. Villains" themed challenges, which means that the protagonists (heroes) team up and compete against the antagonists (villains). People will now be eliminated by taking the Flush of Shame and the winner once again takes home C$1,000,000.
Duration: 22 min
Quality: SD
Release: 2014
IMDb: 7